Special screening for Short film Dhaaga and teaser launch for Accident or Conspiracy Godhra in Mumbai
Mumbai (Maharashtra) [India], May 29: The special screening of the short film 'Dhaaga' and the teaser launch of 'Accident or Conspiracy Godhra' took place at the five-star hotel in Mumbai, organized by Om Trinetra Films and ArtVerse Studios. The event was attended by the film's producer B.J. Purohit, director M.K. Shivaksha, actress Akshita Namdev, and several […]
Special screening for Short film Dhaaga and teaser launch for Accident or Conspiracy Godhra in Mumbai
Mumbai (Maharashtra) [India], May 29: The special screening of the short film 'Dhaaga' and the teaser launch of 'Accident or Conspiracy Godhra' took place at the five-star hotel in Mumbai, organized by Om Trinetra Films and ArtVerse Studios. The event was attended by the film's producer B.J. Purohit, director M.K. Shivaksha, actress Akshita Namdev, and several other Bollywood guests. The short film 'Dhaaga' highlights the importance of addressing the issue of mental illness along with the strained relationship between siblings. It presents a beautiful and emotionally-driven story with remarkable acting and direction. 'Dhaaga' will be released soon on the Hotstar Disney platform.
In recent times, Bollywood has been producing cinema based on real-life stories, which were not discussed by filmmakers before. Films like 'Kashmir File' and 'Kerala Story' were made on true events with courage, and they were well-received by the audience. Now, young director M.K. Shivaksha is also making a film based on a true incident that changed the political landscape of the country in the past two decades. The film 'Accident or Conspiracy Godhra' by producer B.J. Purohit portrays the backdrop of the Godhra riots. The announcement teaser of the film reveals that it is not based on fiction or any form of propaganda but rather on the report issued by the Nanavati Commission, which was set up to investigate the Godhra train burning incident. The film aims to uncover the truth of what happened in Godhra. Was it a spontaneous act where some individuals set fire to the train in a fit of frenzy, or was it a pre-planned conspiracy?
Producer B.J. Purohit explains, 'People are familiar with the Godhra incident as part of the Hindu-Muslim riots that occurred in 2002. However, the post-Godhra incidents are seen as pre-Godhra incidents. So, what is the Godhra incident? What happened before the post-Godhra incidents? Why do people consider the pre-Godhra incidents as post-Godhra incidents? What kind of mentality is involved in concealing the truth of Godhra and presenting it as an accident or a spontaneous fight? Why didn't the pain of the 59 people who lost their lives in this incident reach the conscience of the nation? This film sheds light on the pre-planned conspiracy behind the incident that took place at Godhra station on February 27, 2002. It explores every aspect of this event through the work of the Nanavati-Shah Mehta Commission. The facts and information revealed during the commission's investigation are presented to the audience through cinema.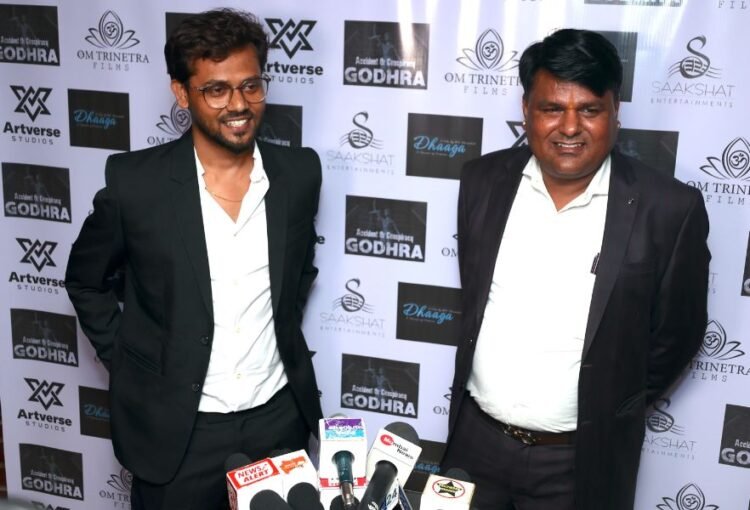 The film also explains that the Godhra incident was orchestrated to terrorize Hindus and counter other seditious activities. The internet and media have distorted it and presented it in a way that lifts the veil for the public.
Director M.K. Shivaksha says, 'We have been working on 'Accident or Conspiracy Godhra' for the past five years. I want to emphasize that during these years, extensive research has been conducted. It would be wrong to say that we are making this film today. The film seeks to answer questions such as whether the plan to attack the train was pre-determined and, if so, to what extent it was planned. He reaches out to various universities for his research, explores archives, and studies primary sources to find answers to these questions."