Urvashi Rautela and Rohit Khandelwal Inaugurate FasDes: A Multi-Facility Fashion Destination in Jaipur
On Friday, Jaipur witnessed the grand opening of a new fashion destination named FasDes, located in Civil Lines. Bollywood actress Urvashi Rautela and former Mr. World and Mr. India Rohit Khandelwal graced the event as celebrity guests. The Chairman of Jaipur Saras Dairy, Om Poonia, was also present as a special guest. The event was […]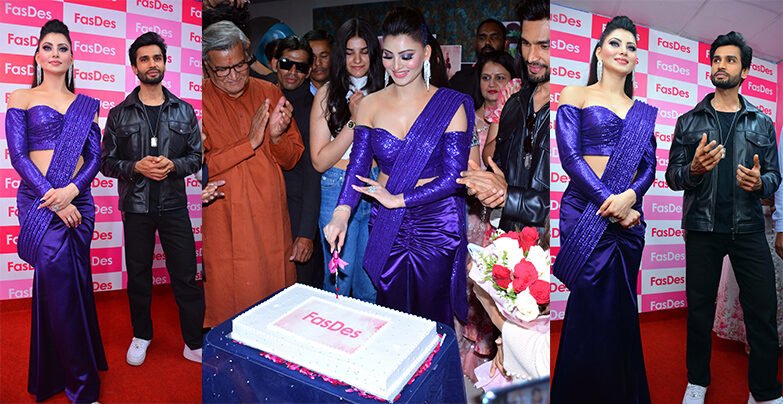 Urvashi Rautela and Rohit Khandelwal Inaugurate FasDes: A Multi-Facility Fashion Destination in Jaipur
On Friday, Jaipur witnessed the grand opening of a new fashion destination named FasDes, located in Civil Lines. Bollywood actress Urvashi Rautela and former Mr. World and Mr. India Rohit Khandelwal graced the event as celebrity guests. The Chairman of Jaipur Saras Dairy, Om Poonia, was also present as a special guest.
The event was kickstarted with Urvashi and Rohit doing the honors of officially opening the institute by cutting the ribbon. They were then given a tour of the academy and a photo session was also conducted with the team.
The director of the institute, Parth, shared that FasDes is a multi-facility fashion destination that offers a wide range of courses such as fashion designing, fashion modeling, event management, and air hostess training. The institute aims to nurture the talent and skills of candidates through the expertise of industry professionals. The academy's main focus is on personality development, outdoor opportunities, and communication skills. The ultimate objective of FasDes is to create deserving talents for the fashion and glamour industry.
Several dignitaries of the city, fashion models, bloggers, and influencers graced the launching event. The event concluded with everyone wishing success to Honor and the entire team of FasDes.
The academy is set to offer high-tech experiences to its students with the help of industry experts. Candidates will have the opportunity to acquire new skills and talents that are in demand in the fashion and glamour industry. FasDes aims to provide a platform for aspiring candidates to develop themselves into talented and skilled professionals who can contribute to the industry's growth.
The launch of FasDes has generated a lot of buzz among the fashion enthusiasts of Jaipur. The institute promises to be a one-stop-shop for all fashion and glamour-related courses. With the support of industry experts and a committed team, FasDes is expected to create a significant impact on the fashion industry in the near future.